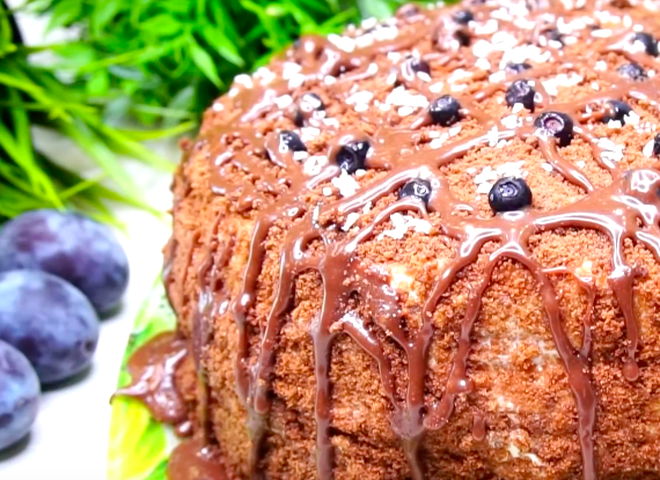 Cake is a favorite dessert of many people. Therefore, cooking recipes cakes very much. Among them are quite famous: Sacher, Kiev, Red velvet, Tiramisu, Ant hill, Napoleon, Pancho, Prague, bird, milk, sour cream, Black forest, honey and many others. But there are those that prompt the hostess made up.
In the classic sense, the cake – baking one or more cakes soaked in cream. Cakes baked from biscuit, pastry or puff less frequently used wafer basis. The cream is prepared from a mixture of butter, cream, condensed milk, cream, jam. The cake definitely needed something to decorate, usually frosting, fruit, cream, sugar paste, marshmallow. Today in cooking, you can find many dishes that are called "cake" and not all of them are pastries (liver, marrow, etc.). So the cake turned from the dishes in the method of its clearance.
We offer the recipe of the famous sweet cake "Prince", which is yogurt. It is quite simple to prepare, based on chocolate cakes and cherry filling with butter cream.
Ingredients:
Cakes:
yogurt – 250 ml;
eggs – 2 PCs.;
cocoa powder – 40 g;
flour – 300 g;
sugar – 200 g;
vanilla sugar – 1 tsp;
baking powder – 1,5 tsp.;
butter – 80 g
Cream:
cream (33%) – 200 g;
sour cream (20%) – 250 g;
sugar powder – 80 g.
Preparation:
To defrost in advance seedless cherries. Drain the juice.
To break into the container the eggs, add 200 g sugar, vanilla sugar. Beat with a mixer for 5 minutes.
To combine the flour, baking powder, cocoa. Mix and sift.
Add to egg-sugar mixture, yogurt, melted and cooled butter. Mix well.
Add flour with cocoa, mix until smooth.
Cover a baking pan with parchment paper, grease with oil, put the dough. Flatten.
Bake for 50 minutes at a temperature of 180 C. to Remove from the form, cool.
To cut the biscuit top, and the main part of the cut at 3 cake.
To combine the cream and powdered sugar and whip until steadfast peaks.
Pour sour cream, stir everything with a spoon.
Soak cake with cherry juice, spread with cream, put the cherry part. So repeat with the remaining cakes.
Lubricate the top and sides also with cream.
Cut the tip grind into crumbs, sprinkle it on the cake.
Allow to soak for 4 hours.