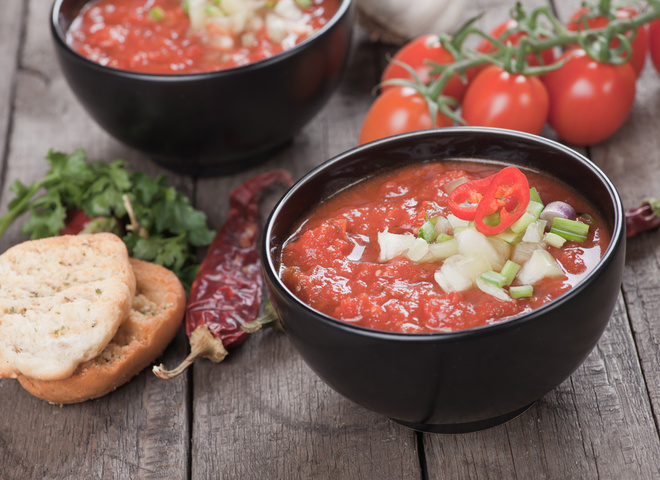 Gazpacho is a traditional Spanish dish hails from Andalusia. To prepare gazpacho in the summer – great lunch and dinners in the hottest period, which is a cold soup of pureed tomatoes.
In this soup you can add garlic, herbs, bread, cucumbers and other ingredients, but the main will still be a tomato. Tomatoes should be ripe. Before cooking you need to remove the tomato skins. To do this, first douse the fruit with boiling water. Then need to remove the seeds and chop the tomatoes into small pieces.
3 delicious version of gazpacho recipe
Classic Andalusian gazpacho
You will need:
700 g of ripe tomatoes
2 cucumber 10 cm length
4 pen green onions
1 large bell pepper
2 cloves of garlic
1 tsp chopped fresh Basil leaves, marjoram or thyme
4 tbsp olive oil
1½ tbsp wine vinegar
salt
black pepper
1 tbsp chopped parsley
3 slices of white bread for toast
Step-by-step recipe for classic Andalusian gazpacho:
Tomatoes pour over boiling water and after a couple of minutes take off the skin. Cut the tomatoes in half, remove seeds and finely chop the flesh.
Cucumbers clear from the skin and finely slice them. Finely slice green onions. Sweet pepper cleared of seeds and cut into small cubes. Garlic cleanse and grind.
Sliced cucumbers, green onions, bell pepper, divided into 2 parts: soup and seasoning.
Put in blender tomatoes, garlic, some cucumbers, green onions and bell peppers, salt, pepper, add chopped Basil leaves, marjoram or thyme, olive oil and wine vinegar. Thoroughly grind all the ingredients of the soup: it should be absolutely smooth and homogeneous.
Check for enough salt and pepper, and pour the mass into the pan. To make the soup more liquid, to intervene from 150 to 275 ml of cold water, cover with a lid and cool.
Preheat oven to 180°C. Cut the slices of white bread into cubes 1.5×1.5 cm, put them on a baking sheet, spray with olive oil and roast on the middle level in the oven until Golden brown, about 5-10 minutes.
Now prepare the filling. Put in a separate container the remaining chopped bell pepper, green onion and cucumber, add parsley, a little salt and black pepper and stir.
Serve the soup with the dressing, bread croutons, toasted and completely cooled down. Also at will of the dish you can put ice cubes.
Green gazpacho
You will need:
green sweet pepper – 1 PC.
the water boiled, the ice – 0.5 Cup
garlic – 1 clove
dry white wine – 1 tbsp
cucumbers – 2 PCs.
parsley – 1 bunch
stale white bread – 1 piece
olive oil – 2 tbsp
salt – to taste
Step-by-step recipe for green gazpacho:
Bread rastoci in a small amount of cold boiled water. Press. Cucumbers clear from the skin, wash the pepper, remove the core. Garlic cleanse. Cut cucumbers and pepper small cubes. Parsley wash and slice.
Grind in a blender bread, cucumber, pepper, garlic and parsley. Pour the oil, wine and water. Salt, pepper and blend.
Cool and pour into wine glasses or cups.
Gazpacho Chile
You will need:
cucumber – 1 PC.
onion – 1 onion
Tabasco sauce – few drops
hot red pepper – 1 PC.
grated tomatoes – 500 ml
salt – to taste
crushed ice – a handful
white wine vinegar – 2 tbsp
Step-by-step recipe gazpacho Chile:
Pepper cut in half with a knife clear from the seeds and rinse under cold water.
Onions cleanse. Cucumber wash. Cut the vegetables into large chunks. Place in the bowl of a blender.
Pour vinegar, mashed tomatoes and a few drops of Tabasco sauce, salt. Grind into a puree.
Wipe puree through a sieve into a jug. Fill glasses with ice and pour the cocktail.
You can decorate the glasses with a drink the sprigs of herbs and slices of cucumber.
And while you're deciding, I want to remind you, what other cold summer soupsthat you can quickly cook in the heat.