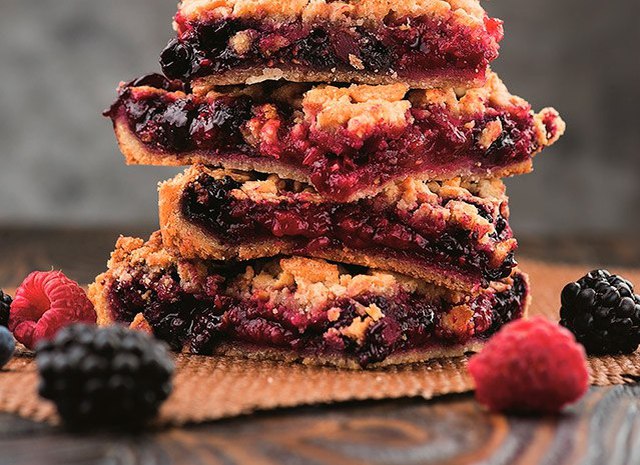 The judge of the show "Masterchef" on STB TV channel Elizaveta Glinskaya shared the recipe for a simple berry pie. Things to cook while on the market an abundance of raspberries, blackberries and currants.
Grated pie — recipe from my book "simple". I assure you, he will conquer you! Easily prepared and eaten even faster. Therefore, when baking the first pie, just cook the second batch. He is amazing! Lisa Glinsky.
Ingredients (for a square shape of 20×20 cm):
Dough:
150 g butter;
220 g of wheat flour;
70 g almond flour (or almond flakes);
70 g of sugar;
50 g egg (1 PC.);
1 g of salt.
Berry filling:
700 g berries (raspberries, blueberries, black currants, blackberries, strawberries);
100 g of sugar;
40 g of corn starch;
1/2 tsp of cinnamon, star anise, cardamom powder (optional).
Method of preparation:
First we need to prepare dough. Mixed wheat and almond flour. If you decide to use cereal instead of almond flour, slap them in a coffee grinder or blender that they were in a state of flour.
Add to the mix salt, sugar and cold butter. Grind to a state of crumbs, add the egg and semesi dough.
1/3 of the dough wraps with cling film and put in the freezer.
The remaining 2/3 roll out between two sheets of parchment with a thickness of 3-4 mm, and put that hour in the refrigerator. A rested dough is put into shape.
Combine the berries with the cornstarch, sugar and spices, put them in the prepared pan with the dough. Instead of berries you can take peach, apricot, plum.
On top of the berry filling RUB on a coarse grater 1/3 of the dough that was lying in the freezer.
Put the pie in to bake in a preheated 170 degree oven for 40 minutes.
When the cake is completely cool, you can get it from the form.