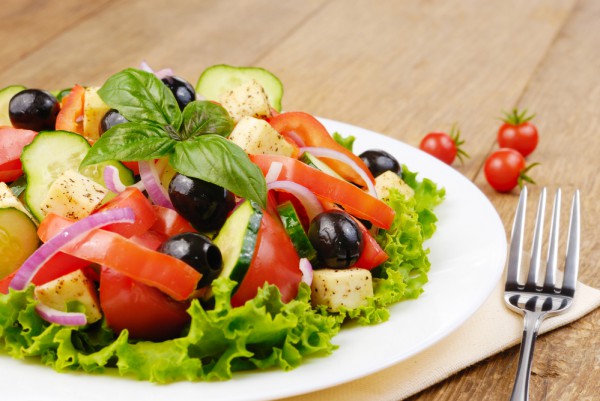 Simple recipe for tasty and healthy snacks with vegetables and cheese fitaki.
Ingredients
Cucumbers, peppers, onions: 1 PC.
Tomatoes: 3 PCs.
Olives pitted : 100 g.
Fitaki cheese: 100 gr.
Lettuce leaves: 4 PCs.
Olive oil: 100 ml.
Lemon juice: 1.5 tbsp
A blend of Italian herbs or oregano:
Pepper:
Salt:
Greek salad – the perfect snack, and in the fall especially, because we harvest fresh vegetables: cucumbers, tomatoes, onions, bell peppers. An important ingredient is cheese. Typically a Greek salad is prepared with fitaki – a kind of cheese, but it is more uniform and delicate texture.
Classic Greek salad with fitaki – it's easy, simple and incredibly tasty dish that is a real storehouse of vitamins. In addition to the basic ingredients in the salad you can add olives, Chinese cabbage, ordinary tomatoes to replace the tomatoes and onions on Crimean red variety of onion. Fitaki cheese is a vegetarian option substitute for Tofu.
Preparation:
Clean tear lettuce and lay them in the bottom of a deep bowl.
Remove seeds and stems pepper, slice along with cucumber cubes.
Chop the onion half rings and tomato cubes.
Dice the Fitaki.
Put the chopped ingredients in a salad bowl, add the halved olives.
Make a dressing of olive oil, oregano (herbs mixture) and lemon juice.
Pour dressing on salad, sprinkle the Fitaki.
Earlier we wrote how to cook a loaf for the wedding.