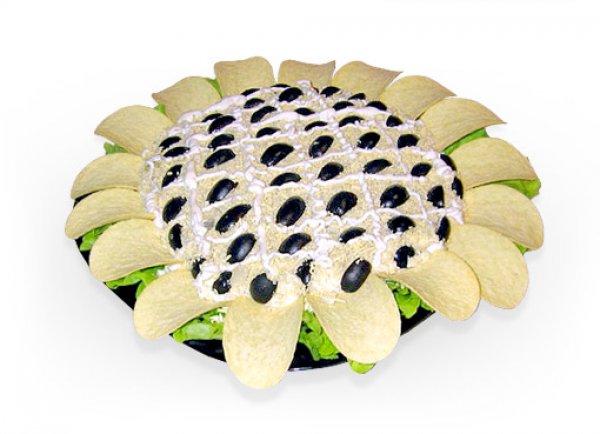 Recipe-a delicious salad of chicken, mushrooms and cheese.
Ingredients
chicken breast: 200 g
fried mushrooms: 200 g
eggs: 3 PCs.
cheese: 100 g
yolk: 3 PCs.
black olives, pitted: for decoration
chips: to decorate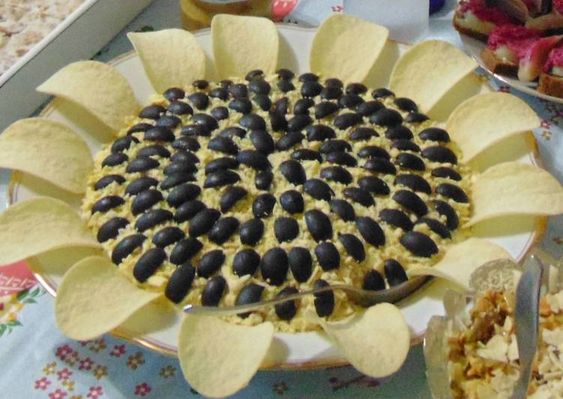 In the yard – summer, and can at least every day to pamper yourself with a variety of salads from fresh vegetables and herbs that are simply prepared and not add extra pounds. In addition, fresh vegetables can be used in more hearty salads that will be an excellent source of protein and a real decoration of any holiday. If you have a reason and a little extra time – I advise you to prepare beautiful and delicious salad Sunflower. It consists of several layers, each of which is covered with mayonnaise.
How to cook macaroni Salad Sunflower
pinterest.com
Preparation:
Arrange layers of lettuce in the following order: chopped chicken breast, fried champignons, finely chopped eggs, grated cheese, yolks. Spread mayonnaise over the top layer of the yolks will not need.
Cut into four pieces black olives and put them on a salad.
Remove the dish in the fridge overnight, and before serving to place around the perimeter of the meals chips (these will be the leaves of sunflower), and in the center sprinkle with the grated yolk.
The table decorations in green tones.
How to prepare a salad?
Earlier we wrote how to cook a pancake cake.