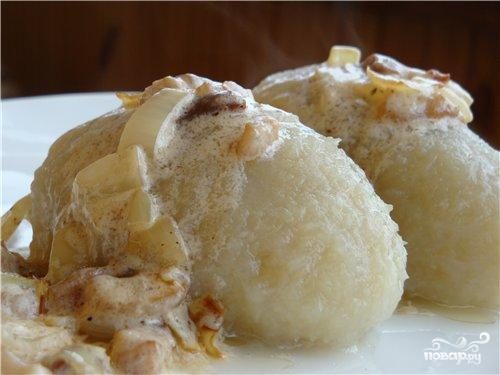 Cook authentic Lithuanian zeppelins not easy, but believe me, worth it. One of the most delicious dishes I have ever prepared and tasted. So, my master cooking class zeppelins.
Description of preparation:
In short, the zeppelins is something like a huge potato dumpling with meat stuffing, served with traditional sauce. It is traditional, the brand of Lithuanian dish, the ability to cook which is valued culinary skills of each chef. Dish for God knows how many years, but the Lithuanians, it is still not tired – and this is a sign of class, you will agree 🙂 the Dish is somewhat rough, rustic, looks primitive, but believe me – a portion of these Lithuanian cepelinai will make you happier than some smeared on a plate of strange things in a French restaurant. Preparation of zeppelins is a complicated business, there are a lot of nuances. I am pleased to share with you all the secrets I zeppelins cooked probably a few hundred times, so you can conduct master classes on cooking dumplings. So there you go!

Ingredients:
Potatoes — 1.7 Kilograms
Salt, pepper – to taste
Ground pork — 400 Grams
Onion — 3 Pieces
Garlic — 2 Cloves
Pork plate — 200 Grams
Sour Cream — 200 Grams
Servings: 3-4
How to prepare "Lithuanian zeppelins"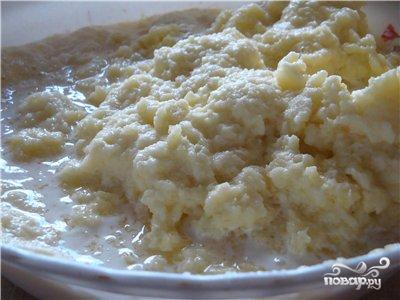 400 grams of boiled potatoes, the remaining 1300 – finely grate using a food processor (you can hands on the very fine grater, but for a long time). Onions and garlic grind in a blender and add to the pork mince together with the salt and pepper.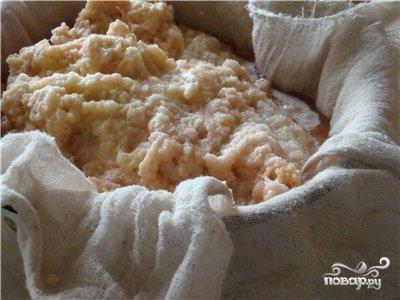 Finely grated potato put in a bowl, pre-fitted with 3-4 layers of cheesecloth.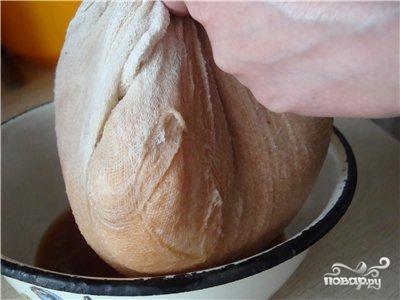 Thoroughly squeeze the grated potatoes from the liquid. But without fanaticism – you don't need to try to squeeze out all the juices.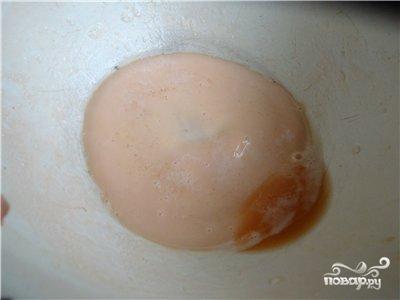 Now very important – in a bowl, in which we squeezed the potatoes on the bottom should remain potato starch. The liquid is drained, and the starch reserve and added to Certosa potatoes. If failed – add purchase, without the starch, the dumplings will not stick together.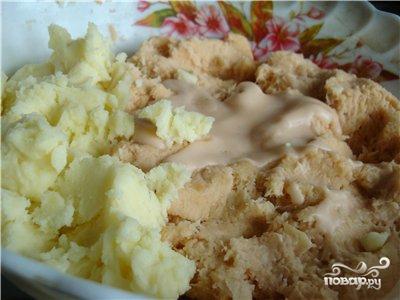 Mix the grated potato with crushed into mashed boiled potatoes. Salt, pepper and stir.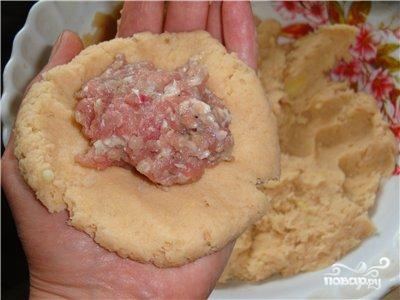 So we have potato dough and have meat. Now, take a piece of dough (from this amount of ingredients you should get 8 dumplings – so all the dough divide into 8 parts), spread in the middle of the stuffing and very tightly zasiyaet edges, shaping the Zeppelin. Look at the photo for clarity.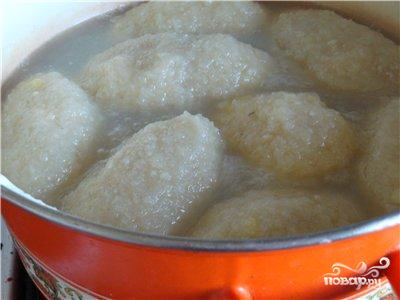 When all of zeppelins stuff is made – put them in boiling (stress, into boiling!!!) water. The pot should be spacious, otherwise the dumplings will fall apart.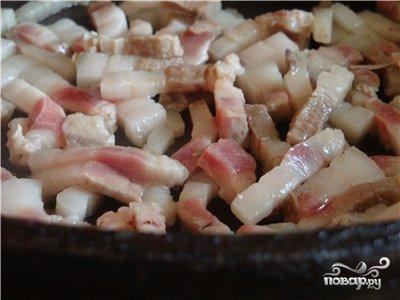 Zeppelins cook about 25 minutes over medium heat. And while they are cooking, make sauce. Cut into small slices (as pictured) cover pork, salt, pepper and fry for 2-3 minutes in the pan.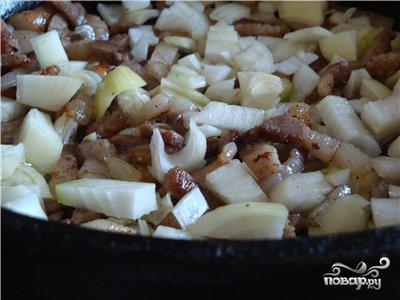 Add to the pan medium-sized pieces of chopped onion. Fry for another 2 minutes.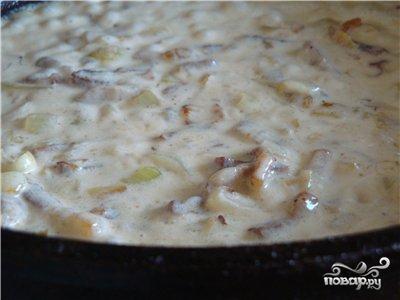 Fill the whole thing with sour cream and simmer for another 5 minutes.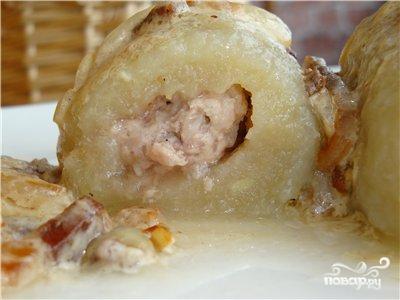 Welded zeppelins gently removed from the water and served with our sauce. Bon appetit, or Skanaus, as the Lithuanians!