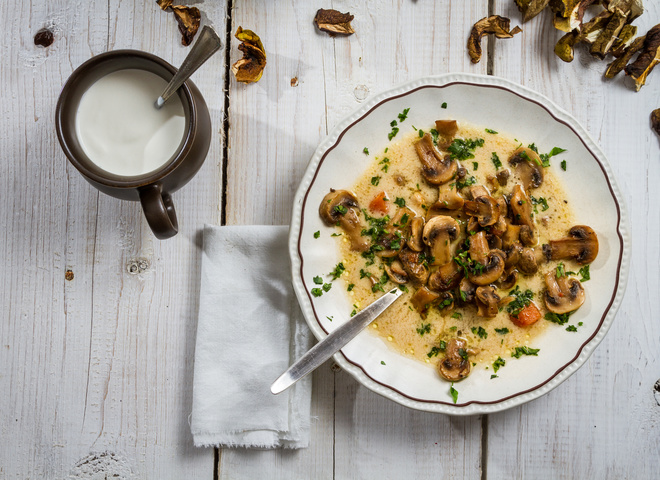 The most fragrant, flavorful, and hearty autumn soup with wild mushrooms will work, if you have collected mushrooms in the forest, i.e. participated in the process of creating this dish from the beginning to the end.
Today we offer you to prepare mushroom soup without the addition of other vegetables – potatoes, carrots, and even onions, as well as to know the soup recipe from fresh and frozen mushrooms. Due to the white creamy sauce, this soup is very delicate with a pronounced mushroom taste.
Cream soup of forest mushrooms
Cream soup of forest mushrooms – ingredients:
500 g wild mushrooms,
300 ml of 20%-x cream
50 g butter,
2 tbsp. vegetable oil
3 tbsp. flour
1 clove garlic,
1 sprig of thyme,
ground black pepper,to taste
salt to taste,
1 liter of water.
Soup-puree of wild mushroom cooking
Wild mushrooms climb, clean from debris, wash and Obasi.
A few nice small mushrooms for decoration put soup, cutting them into plates. The rest of the cap to separate from the legs, and separately, finely cut.
Garlic cut into 2-4 pieces.
Legs chopped mushrooms and pour cold water, bring to boil and boil on low heat under a lid for 30 minutes. Then add a sprig of thyme and garlic.
In a pan heat half of the vegetable oil, pour the chopped mushroom caps and mushroom for decoration, salt and sauté on high heat under the lid for 5-7 minutes. Sadi from the frying pan into the pot with the broth of the resulting mushroom juice, then add to the pan the remaining oil and continue to cook the mushrooms, stirring occasionally, 10 minutes.
Fried mushrooms shift from the frying pan into the soup about 10 minutes before end of cooking. Remove the thyme and garlic.
Blend half a Cup of broth. In a saucepan melt butter, add flour and, stirring, sauté for 3 minutes. Then pour the broth, stir and cook sauce another 3 minutes.
Add the sauce to the mushroom soup, remove from fire and slightly cool. Soup of wild mushroom blend in a blender until smooth, then bring to boil, pour the cream, salt and pepper.
Give the wild mushroom soup hot, garnished with green leaf and whole mushrooms.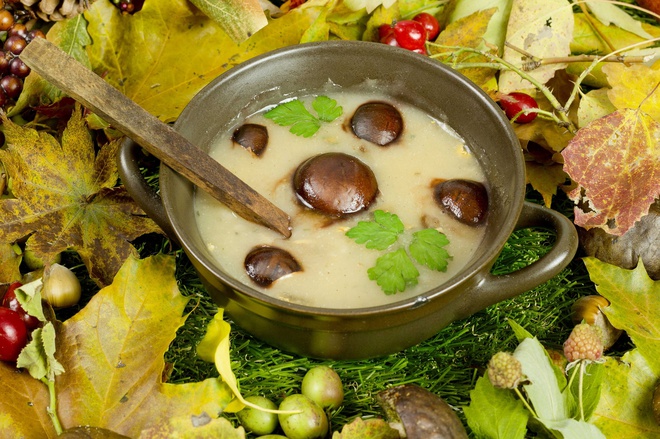 Soup of wild mushrooms is a simple recipe © depositphotos.com
Soup out of frozen mushrooms
Soup from frozen mushrooms – ingredients:
600 g frozen porcini mushrooms,
5 medium potatoes,
1 carrot,
1 onions,
pepper 5-6.
salt to taste.
Soup from frozen mushrooms – cooking:
Thoroughly wash the mushrooms (no need to defrost). Put in a saucepan, bring to boil and continue to cook on medium heat for about 40 minutes.
Potatoes you need to peel and cut into cubes.
Then take out from the broth, the mushrooms, and instead put there the potatoes. Cook until tender.
While cooking the potatoes, RUB on a grater carrots, finely cut onions. Spizzirri in sunflower oil this mix. After a few minutes add the broth and potatoes.
Cut the mushrooms back to the soup, salt to taste, pepper.
If desired, add to the soup sour cream and greens, season with crackers.
A simple recipe of caviar from honey we know now!