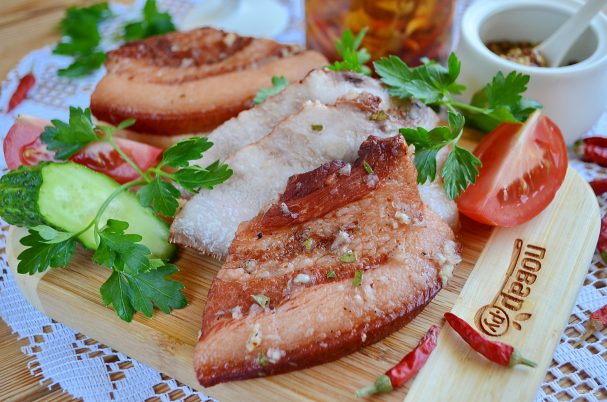 This spicy dish variety to your table with meats, will delight with its taste and aroma. The fat in onion skins turns out very tasty – has anyone tried, will not lie. Share the recipe.
Description of preparation:
Salty onion skins resembles fat pork, only, in my opinion, it is much tastier. Besides, you are cooking it with their hands and not buy in the store – and this is a priori evidence that tastier 🙂 I onion, and bacon always buy one and the same woman in the market – it is always fresh fat, for never has there been such that the fat in onion skins turned out I tasteless. The fat in our house goes with a Bang. My husband at night he likes to cook for us a plate of appetizers: vegetables, meat, cheese. I admit, that's the fat I love the most. Be sure to try! 😉 Tell you how to cook bacon in onion skins. Good luck in cooking. Who made – unsubscribe, share, review, like.
The main ingredient:
Meat / Offal / Fat
The dish:
Snacks / Salty
Ingredients:
Lard with layers of meat — 600 Grams
Onion (skins) — 1 Kilogram (Husk, 1 kg of onions)
Salt — 3 Tbsp. spoon
Bay leaf — 10 Pieces
Garlic (head) — 1 Piece
Black pepper — – to taste
Red pepper – to taste
Servings: 10
How to cook "the Fat in onion skins"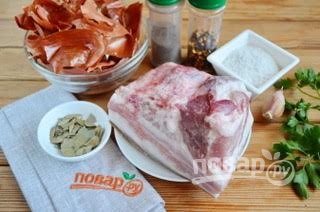 1. Prepare the foods. Let's get started!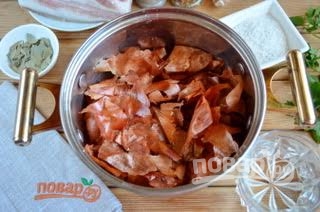 2. Type onion peel approximately one kilogram of onions. You can do it gradually. Rinse the husks in water, and pots boil (per 1,5 l of water). Add a couple tablespoons of salt and cook for 5 min.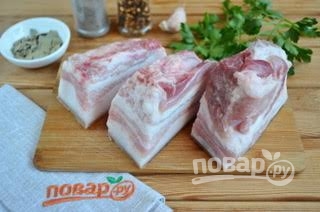 3. The fat flush. peel and cut into pieces of 200-300 grams.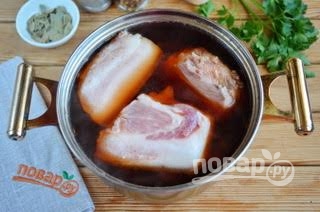 4. The fat is sent to the husk. The water should cover the fat (if it is not, add boiled water). Bring to a boil, lower the temperature to medium and cook for 25 minutes. Then remove from fire and let cool. Importantly, the fat was in the liquid.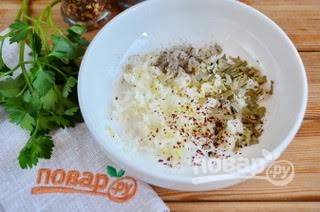 5. While fat is "resting" in the pan, make the marinade. Skip through garlic press garlic, add black and red pepper, crushed Bay leaf.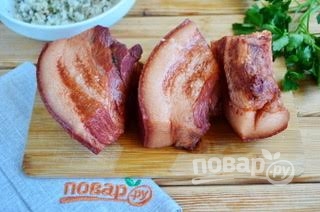 6. Select fat, dry kitchen or paper towel.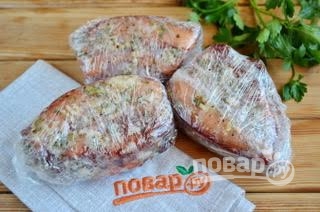 7. Carefully RUB our "marinade". Then wrap in plastic wrap and send for 12 hours in the freezer.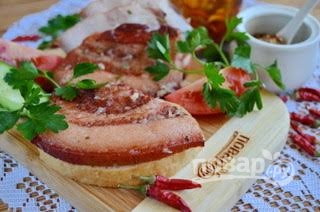 8. 12 hours later our miracle-fat ready! Slice and serve with bread, pickled or fresh vegetables, sauces. Nice!