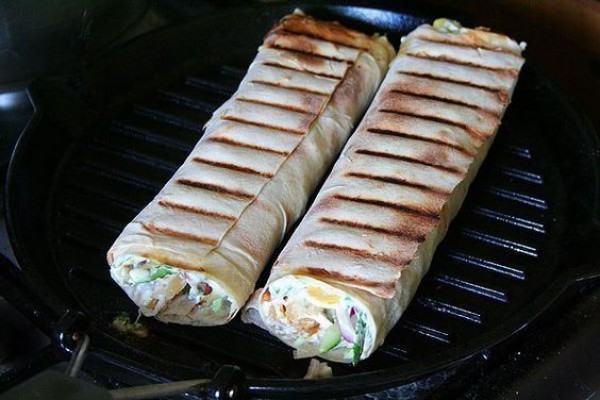 How to cook delicious vegetarian Shawarma at home, read our material.
Ingredients
Armenian lavash : 2 sheets
Adygei cheese: 200 g
Tomatoes, cucumbers: 1 piece
Cabbage: 100 g
Sour cream: 5 tbsp
Garlic : 2 teeth
Curry : 1 tbsp.
Salt, sugar : 13 tsp
Vegetable oil: 3 tbsp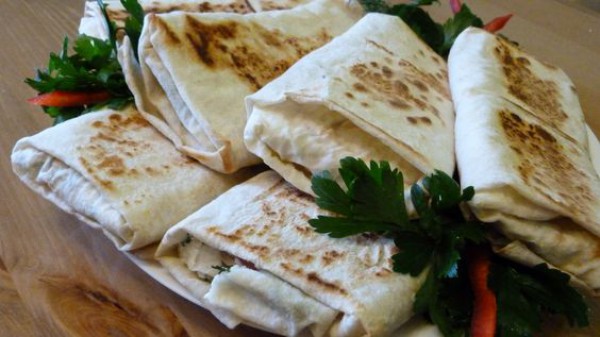 Shawarma – a middle Eastern dish, which is based on pita or lavash. In acts as a filling meat, preferably lamb, beef or chicken, first cooked on a vertical grill and then finely chopped. Also, the filling must be added to vegetables and sauces. In many Eastern countries and Europe Shawarma called Doner or kebab.
We offer a delicious recipe vegetarian Shawarma with vegetables and Adygei cheese. In the warm season vegetarian Shawarma many people like more, because in the middle you can put a lot of seasonal vegetables. Spicy taste of this Shawarma will give Adygei cheese. He is a brotherhood not of rennet cheese, as for the production use only bacterial ferment. That is why well fried Adygei cheese, does not stick and does not melt.
Vegetarian Shawarma: a simple recipe for healthy snacks
pinterest.com
Preparation:
Squeeze the garlic into the cream, add salt and sugar. Mix well.
Finely shred the cabbage.
Slice the tomato rings.
Cut off cucumber ends and slice into strips.
All the vegetables should be divided into 4 parts enough for 4 steaks.
Cut the cheese in thin slices
Pour on a flat plate of curry to throw in the spices and cheese.
Fry cheese in vegetable oil on both sides over medium heat. Place on a plate.
Cut the sheet of lavash in half. The lower part spread with sauce.
Put the cabbage, then cheese, cucumbers and tomatoes.
Wrap roll. You can fry on the grill.
Bon appetit!